SAIC Mentor Connect
​

An engaging application that helps School of the art institute of Chicago (SAIC) students make a mentor-mentee relationship through personalized search.
Tools Used


Sketch, Adobe Illustrator
Principle
Prompt
Your school wants to strengthen the community by encouraging experienced students to connect with new students and help them adjust to campus life. Design an experience that allows mentors and mentees to discover each other. Consider the needs of both mentors and mentees, including how someone may become a mentor and how to connect mentors to mentees.
Design Process
Interaction Design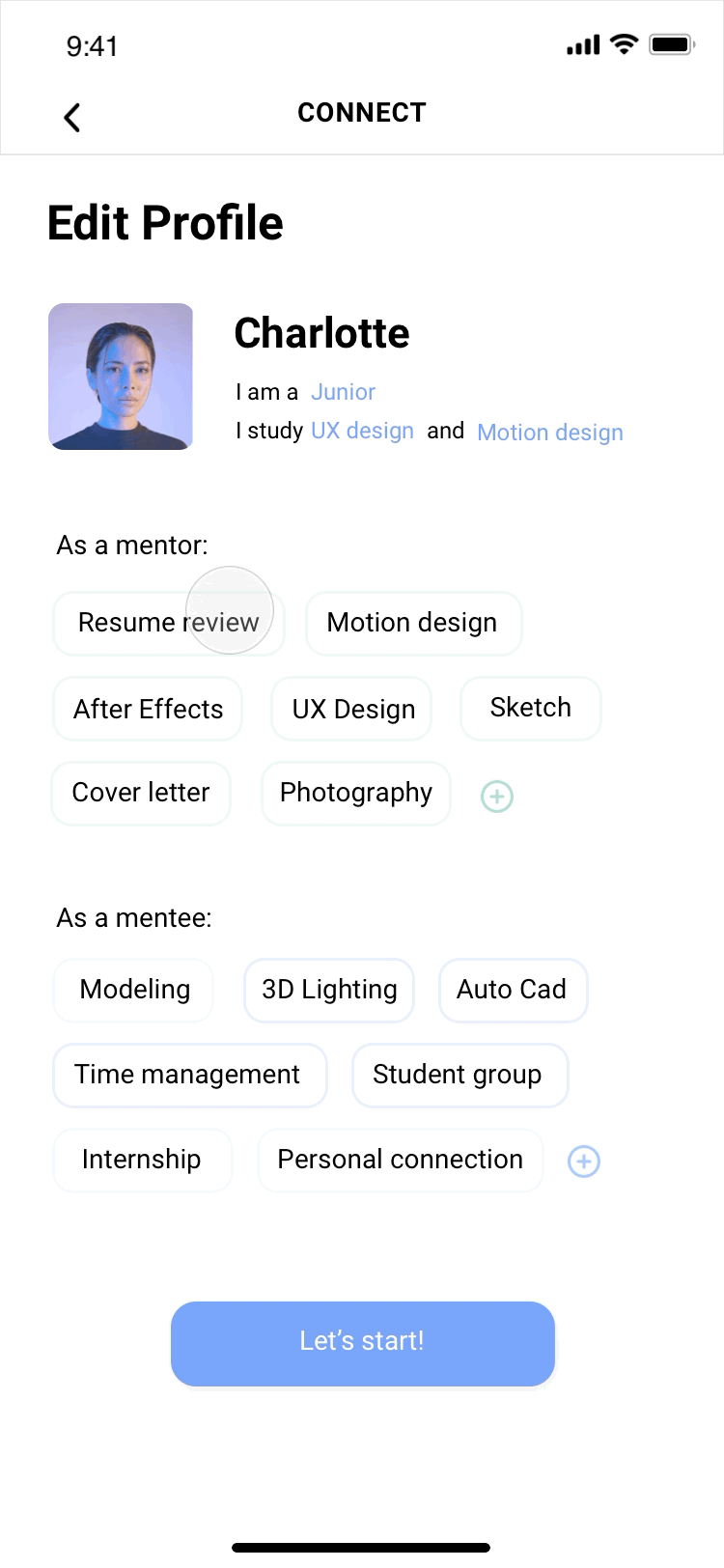 Personalized feeds for each user
After the first sign-in, users check the area where they can be a mentor or where they need a mentor. This information can be modified later.

Users can fill in basic information such as name, year, and major
Discover mentors
Find mentors' past experiences or activities they participated in from their profile.
Initial Thinking
Target Users
Students at the School of the Art Institute of Chicago

Less experienced students who need help to properly adjust to campus.

Experienced students who can become mentors to less experienced students.
Research Methods
Online survey (Google form)

In-person interview

Research online
How might we questions
How might we make the experienced students and the new students go beyond sharing their experience and
form a sustainable mentor-mentee relationship?



How might we help the students to

discover each other based on their needs?



How might we make the platform become a foundation for strengthening the school community?
Background Research
Research Goals
Identify existing online and on-site platforms related to community building

Discover how the new students are connecting with experienced students.

Examine how the students developed their mentor-mentee relationship.

Analyze how the students are utilizing the current system.

Identify the strengths/potential of the current system.
Research 1 - Existing Systems
It's Impossible to identify the students' needs. Moreover, since there is no way to search other students through filters, it is difficult to

establish a meaningful connection.
Social media (Instagram/Facebook)

Student-driven events

SAIC Engage

Organization fair, Group Fair
Research 2 - Student Surveys & Interviews
How strong do you feel the sense of community within the school is?
Do you currently have a mentor at SAIC?
If you have a mentor, how did you find him/her/them?
Campus events

Social media

Residence Life

Class
Have you ever asked another student at SAIC for advice when you were a freshman?
How helpful was that experience?
Are you still in contact with the student that you asked for advice?
Pain Points
It is challenging to keep track of up-to-date information because of existing data on various platforms.

It is difficult to maintain an ongoing relationship

For mentoring, it is difficult to find an available time for both mentor and mentee.

Identify the strengths/potential of the current system.

One mentor, not one on one mentoring, has no opportunities to explain to multiple mentees.
Problem Statement
Students need a

personalized and well-organized digital platform

that can be easily engaged to share various school information and maintain a

sustainable mentor-mentee relationship

by discovering students who meet their needs.
Solution
A single, organized platform
Platform with a program for community building and mentor-mentee information

A function to provide up to date information and save only information that students want

A function to receive notifications and search for any wanted events.

A synchronized Google Calendar to check school events or mentoring schedules all at once
Personalized search
When starting an application for the first time, the more efficient procedure of discovering a mentor and mentee that have the same interest by checking areas that need help and areas where they can provide support.

Confirmation of trending questions about areas of interest

Search by category according to major or interest

Confirmation of common questions through Discussion Page
Effective mentoring process
Providing available time slots for mentors and mentees to have a conversation whenever they wish to.

Present student's status to on, off, busy.

A group chat system to provide 1:1 mentoring and group mentoring.

Add message function within the application for the durability of mentor and mentee relationship and personal connection building.
User-friendly and engaging
Include school events in the application to increase the frequency of application usage.

Design that can easily navigate the application.

Release a limited amount of personal information as much as desired by the user to make them feel unburdened.
Q. What is the most efficient digital platform?
A. Mobile Application

Why?
The usage of messenger helps to maintain a constant mentor-mentee relationship. It is an excellent platform to check various Up to date information without having a regulation in location. Students' application utilization rates are high. According to the survey, students obtained school-related information through mobile phone applications such as e-mail and social media.
Wireframe
Visual Identity
Final Design
A single, organized platform
The everyday schedule is displayed on the main screen so users won't forget school events or mentoring programs.

A reminder notification will enable users to attend saved events.

Trending questions in the area of ​​interest elevate communications between users and a student can also find answers to common questions.
Log in
Edit profile
Home screen
Messages
Making an appointment
School events
Include school events in the application to increase the frequency of application usage.
Check the list of friends who will participate in the event together.

Filter feature allows users to check their only desired type of events.
User testing feedback
It's convenient to find all the information on one platform.

It's convenient to check events and mentoring schedules at a glance.

The feature to send reminders is great.

It is clear whom to ask for guidance.

I like there is no review feature. I hope that there is an endorse feature.
Presenting to the school
While I went a step further with the hope that my application would make a practical and positive impact on the future community, I presented my ideas to school assistants and had an interview for about an hour. In the interview, I was able to find the opinion of the school on my application. I heard specific answers about how my application would appeal in terms of business, and what advantages and suggestions it brought.
SAIC Campus life interview
Feedback - Advantages
It meets the more diverse needs of students; they can post quick questions on the discussion page and get other students' advice. If they need further guidance and more specific feedback, they can arrange an appointment with mentors that appeals to be effective.
One-stop-shop application is something that has always been demanded. It's great to have a feature to link to school events.
It enables users to effectively filter mentors and mentees. And it's effective to find people who match their needs.
The rating feature is not crucial, so it's better not to be in the application.
Patrick Spence
Associate Dean of Student Affairs for Campus Life
Laura Lamb
Director of Campus Life
Kathleen Kivarkis
Assistant Director of Campus Life
Feedback - Suggestion
In order for the application to actually be implemented at school, monitoring is required by the school administrator, so a platform of the desktop version is also required.
If a user can log in via their social media ID rather than school emails, I think it will provide more personal experiences by using user algorithms.
Takeaways
This project has focused on user research and identified needs. Generally, if you follow users, a solution inevitably follows. Interviews with students and surveys enabled me to find out diverse perspectives and solutions.

If I had had more time, I could have collected survey responses from more students. And I believe I could create a website version as well as the mobile platform.

When I gave the presentation about my application to the school, I felt much proud of hearing that the school official told me he would carry out more things that he could immediately do. I realized what the role of a UX designer is not only to design a good idea but also to develop everyday experiences of the community with the design.